This morning I saw that Cara Ellison posted an Embed with Adriaan de Jongh, so I immediately had to read it and it made me reflect on why I started a game studio to begin with. The sentence that really hit me was, "I think what he is talking about is a divide between commerce and art, or at least, the conflict between what art wants and what the market wants and how the artist technically needs to serve both to survive."
I notice that whenever I present my games to game developers, often the first question is, "But how do you plan to monetize this?" From a business point of view, it is indeed a very important question. However, from an artistic point of view, I think this kills a lot of visions. This can also bring back the question of whether your primary goal is to make money or to give people a way to have fun. Many of our games also have the added goal of connecting people (below at the newly opened Game Science Center here in Berlin).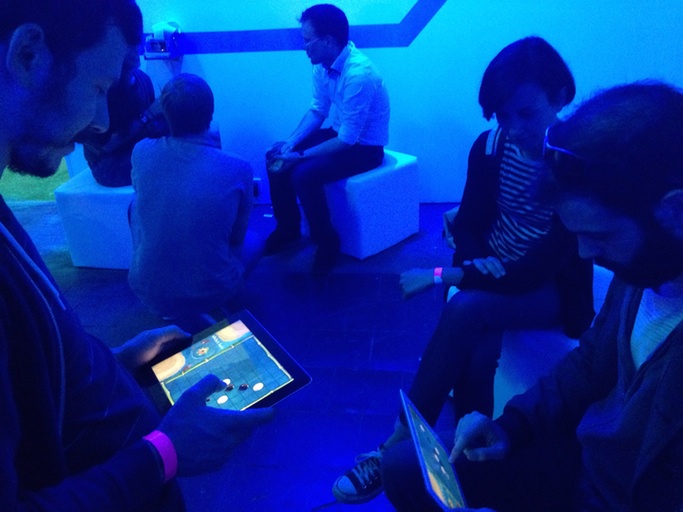 With our first game, Word Race, you only need one device, but you actually have to get at least four people together to play (because you need at least two teams of two people each). Our latest game, What the Shell, also requires two players for the best experience. Even though What the Shell is an abstract board game, there's a connection that happens when both players play on the same space in the game, effectively blocking each other that turn, so it makes sense that the most amusing interactions come from playing in the same room, while each player is hiding their screen from their opponent.
Word Race
(This title is no longer on the App Store.)
Each of our games start out by heavily innovating on a classic game and adapting it to digital media. Word Race took the party game of Taboo and made each word a race in itself, instead of having the same player continually describe words for a limited amount of time, which was required due to limited technology before smartphones. So, we felt a racing theme also matched this new game mechanic. If you want to give it a try, you can download Word Race on the Apple App Store.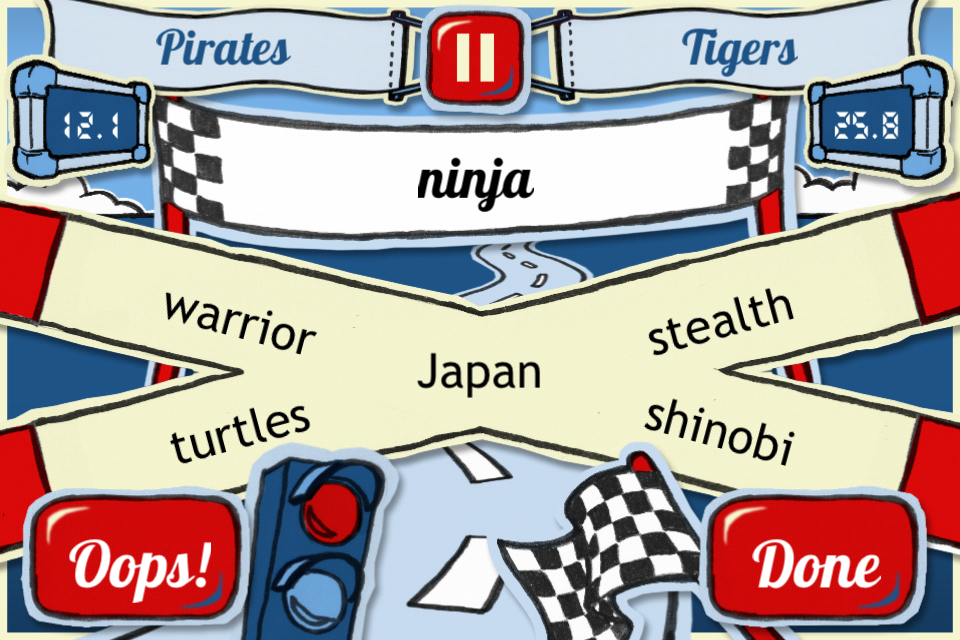 Poker Solitaire
(This title is no longer on the App Store.)
While we were looking at the OUYA market, we saw that there weren't many card/board games for it and decided to fill that hole in the market. The game that I felt could be most easily adapted to the TV was Poker Solitaire, because it just required choosing which space on a 5×5 grid to place your card. But even here, we didn't stop innovating. We noticed that almost all Poker Solitaire games wait until the end of the game to give you your score, so we decided to update the score with every placed card to give the player instant gratification. Also, since we know where the last card will go, we automatically place the last card, speeding up the game a bit. To see for yourself, you can play Poker Solitaire on the Apple App Store or on the OUYA Discover Store.
What the Shell
Our latest abstract board game, What the Shell, innovates on the American game of Pente (1977), which in turn innovated on the Japanese game of Ninuki-Renju (1923), which innovated on the old Japanese five-in-a-row classic Renju (played since 700, name coined in 1899). I've noticed in all of these games that the first player has a big advantage, which is usually compensated for using very complicated inelegant initial placement rules. Due to the design influence of New Rules for Classic Games, I decided to try the game with simultaneous play (but not a speed game), which created a very interesting experience.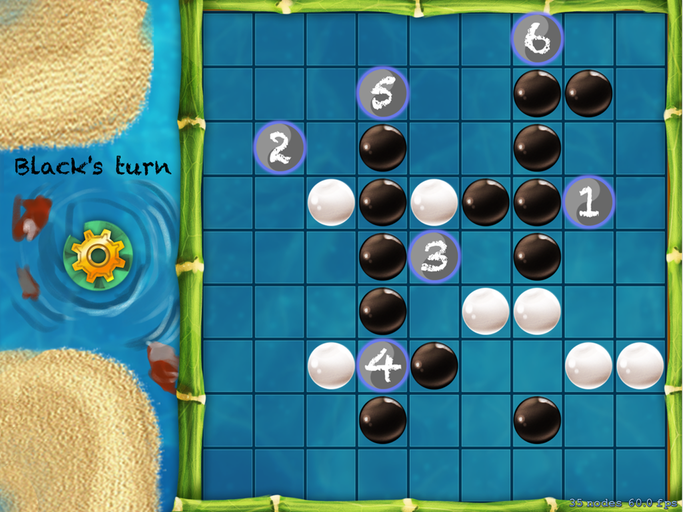 (What the Shell – iPad Screenshot 2014)
In a nutshell, What the Shell is a game with simultaneous play, in which players try to get five pieces in-a-row and can also capture stones to help accomplish that goal. Adding simultaneous play changes the game's nature considerably. First of all, no one can ever be 100% sure they will win on the next turn, thus why What the Shell doesn't have a "resign" button. In a typical five-in-a-row game, if someone gets an "open four" (that is four pieces in a row with an empty space on both sides), they know they've won, since they can't be blocked on both sides. However, in What the Shell, this means they have a 50% chance of winning, something similar to exciting final showdowns in Texas Hold'em Poker with both players betting all their chips with hands like 22 vs AK.
Simultaneous play also introduces neutral pieces when both players choose to play in the same place. This allowed me to introduce a new rule that when anyone makes a capture, that person immediate gains possession of the first neutral piece. Since these neutral pieces are in important places, that incentives players to consider and weigh two options for victory: capturing pieces to gain control of neutral stones and just getting five pieces in a row. I find this adds a new dimension to the play. Also, games tend to last 1-10 minutes, so you can easily fit several games into one session.
Pay to win: not with us!
With all of our games, we have people suggesting ways to make money on the game, which we think feel "evil." We definitely don't want to create a pay-to-win game and we think the core mechanics behind these classic games need to be preserved. So, I hope our passion will pay off in the long run as we entertain people around the world with our games! To stay up to date on what we're doing, please like us on Facebook or follow us on Twitter.